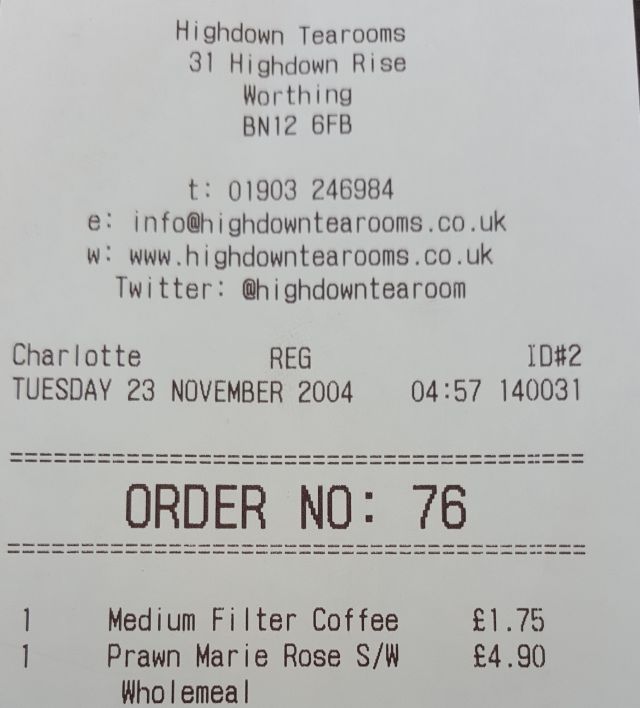 Its positive side is it is canine friendly and here we start the fall downs. I would not suggest taking a dog in there unless you are comfortable taking your dog into confined spaces.
There are plenty of dog bowls outside but i couldn't see any place to tie a lead.
Inside I asked if they had a simple sandwich and was asked to read the menu, i had a menu in my hand but it was so grubby, stained and faded i couldn't read it. (i did see the blackboard was gastro pub prices!)
I asked for a prawn Marie rose sandwich, a white coffee. I wasn't paying £2.50 for the doggy ice cream. I dont think they had any trouble making the £5 minimum for the credit card.
Taking my receipt i noticed that the date on the receipt was for November 2004!
My prawn Marie sandwich arrived. The phrase mildly disappointed should read majorly disappointed. while quote full the sandwich was actually prawn and mayo, the garnish was that stringy salad. similar to eating grass. I asked the waitress what flavour the Doritos/nachos were and was told "Doritos". I asked again and was told plain. Plain what? plain spicy / plain cheese?
The woman on the table next to me who i had been talking to had ordered a dog sausage. When hers arrived it was a small bowl on a bed of cucumber tomato and nacho!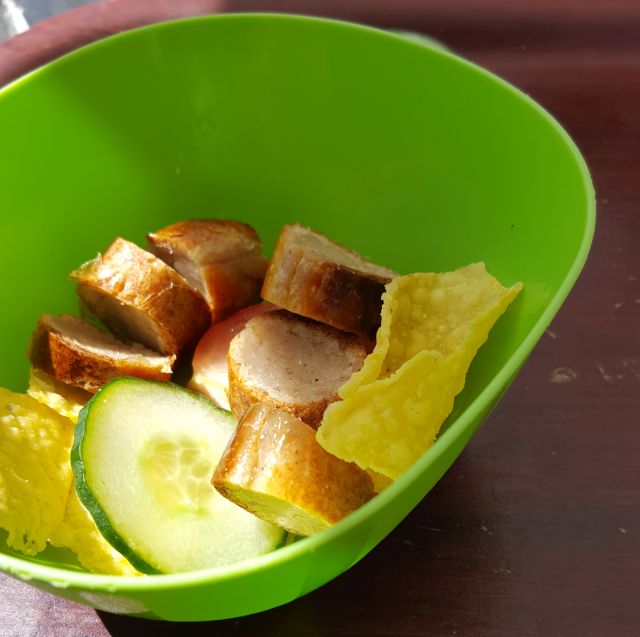 She looked at it in wonder. She called the waitress back and said she had asked for a cooked sausage meaning hot, not fridge cold and why was it on a bed of salad? the waitress said "that's how they like it". I said jokingly "what percentage of dog did you ask". Thanks Stella for allowing me to snap Rubies treat.
I have had better coffee from a vending machine.

Summary: coffee - poor, food - over priced and lacking. Gastro cafe.
AND to round it off, the toilets were locked.